The Perfect RV Park in Central Florida
to Escape the Crowds.
Relaxation. Adventure. Friendliness.
Come experience why our guests come back year after year.
Coronavirus (COVID-19) Update From Camper's Holiday Campground
Due to coronavirus (COVID-19), we've made changes to some of our policies, which may affect the services we provide.
Discover Why We Call Camper's Holiday
The Greatest Camping on Earth!
Your RV Park in Florida for adventure, Camper's Holiday is perfectly located south of Brooksville, Florida. Amid beautiful shade trees and natural wonder, discover Florida's Nature Coast: experience world-class golf, canoe with manatees, escape with the Weeki Wachee mermaid show, and discover the natural wonders of this oasis we call home.
Our Central Florida RV park boasts a country setting and is enhanced for your comfort. We offer complimentary internet access and cable television. An Olympic-sized geothermal swimming pool keeps you cool in the summers and warm in the winters. We are family-friendly – and even have a playground for your little ones' enjoyment.
A unique location and ample amenities give our guests the freedom to embrace peace and tranquility one moment, or laughter with family and friends the next – or unleash their adventurous side exploring Florida's Adventure Coast.  Other amenities include:
In addition to this we offer:
All-Access: Your Florida RV Park
Discover Florida's Nature Coast and Other Wonders at Camper's Holiday
Want to get out of the city? Or just want to spend your days off in nature? Leave your RV parked at Camper's Holiday instead of driving it back and forth. Enjoy our year-round pool, complimentary WiFi, large shade trees, and other natural wonders Florida has to offer without dealing with the hassle.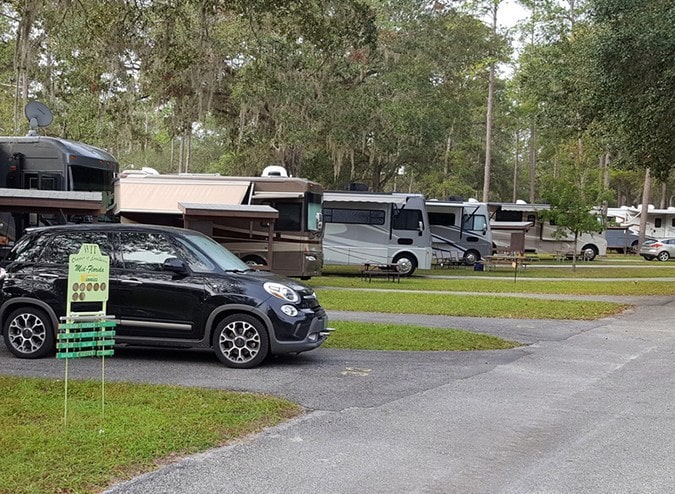 "We are members of a Florida camping club, Sunseekers. We stay at Campers Holiday a few times every year and have had a wonderful experience every time!" 
"We stayed here for a week. One of the best RV campgrounds: safe, clean, spacious and very friendly people."
"This an awesome place to spend your winters."
"This the 3rd year that we have stayed for the winter. Great people. Great campground. Great activities."
Camper's Holiday
Call Us Today to Make Your Reservation!
Reserve your Florida RV Campsite and experience the Greatest Camping on Earth.